Intro
Looking for unusual travel ideas? In times when it only counts how many countries you have visited or who takes the most beautiful beach photo, the idea of experimental travelling is more current than ever. It is another form of discovery. Foreign countries and places are no longer discovered for sightseeing, but according to a pattern that one chooses beforehand. Not only does it take you off the beaten track, you can also see the sides of a place you would not have seen otherwise. Interesting people, authentic residential areas or breathtaking details of another culture are the reward.
Unusual destinations can be found not only in Europe or the world. The concept also applies to things that can be done at home, but which are geographically oriented. As a single traveller, couple or group there is something for everyone.
A brief introduction into the idea, you can find here.
Here are 23 unusual travel ideas that can give your next trip the crucial twist and turn it into something truly unforgettable.
---

On the road:
1. Anachronistic travel
Use a way of transport that is old-fashioned or superfluous, e. g. a litter, a high wheel, a galley, a fiaker, a trolley, a zeppelin and so on.
Second, on your journey, follow an outdated guide.
2. Aesthetic Journey
Turn a normal holiday into an aesthetic journey by photographing or painting the view from each of your hotel windows. You often discover unexpected things here.
3. Bureaucratic travel
Visit places that are known for their administrative function for the locals (and not for their tourist value). These include waiting rooms, social services, town hall, police station. Use the equipment and resources such as photocopiers, brochures, magazines and taste the gastronomic pleasures offered in the cafeteria, coffee machines, sandwich shop, etc…
4. Dodeca trip
"Dodeca: Ancient Greek for 12.
This itinerary is about the number 12, examples: Take the 12:12 train and get off at the 12th station. Walk or swim along the 12th degree of latitude. Sleep in any hotel in room number 12 and start a world tour with only £/$12 in your pocket. Travel along highways and country roads bearing the number 12.
5. Double name trips
Visit places whose names repeat themselves. For example Sing-Sing, Bora-Bora, Baden-Baden.

6. Exploring final stops
Take a bus, subway or suburban train whose line leads to the suburbs. Go to the terminus. Find accommodation for the night and explore the suburbs.
7. Exploration of the opposite
Travel with a camera, but don't take pictures of the famous sights and tourist attractions. Instead, stand with your back to the sights and take pictures of the view you are offered.
8. Travel in partnership
Plan a weekend with your partner. Drive separate roads to your designated destination. Try to find yourselves.
9. Expedition to the K2 (or B5 or C7)
Discover the area in a city located on a classic, non-digital city map in field K2 (or B5 or C7, etc.). Enjoy all cultural attractions and gastronomic offers.
10. Airport exploration
Spend some time of your holiday in an airport. But without getting on a plane. Enjoy the comfortable lounges, various washrooms, shops and restaurants. Observe the dance of the passengers before their departure and the alternating departure displays.
11. Time out in a different way
Take a year or six months off to travel. Only buy cheap last-minute trips these months. Take for example a week here, 10 – 15 days there, half pension or full pension. The only condition is that you plan your route, e. g. online by connecting your reduced flights and holidays.
12. Night trip
Visit a place at night. Set it up so you arrive at nightfall. Explore the place at night and return home with the rising sun.
More unusual travel ideas on the next page
---
Share it on Pinterest: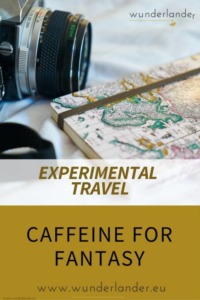 ---
Also published on Medium.
Read this in:
Deutsch