Have you ever wondered, what to bring your beloved ones from a trip to Europe? If you travel Europe on a budget, here is the right idea for you.
A little baroque feeling for everyone: Visit Charlottenburg Palace in Berlin. Not only a very historic scenery, also a great place to relax from the colorful things, Berlin has to offer. A MUST for your Berlin trip and source of a truly unusual souvenir.
Those who like to experience the mixture of cultivated aristo-chique with history and natural park, are exactly right around and in Schloss Charlottenburg in Berlin. Furthermore it is a great photo location. As a Berliner it is a great weekend destination, also for small picnics or naps.
Wiki knows: the 55-hectare castle garden Charlottenburg Palace (called popularly "Castle Park") was created from 1697 by Siméon Godeau as French baroque garden. It comprised a Baroque parterre on the garden side of the core building, a Western and an Eastern boscet on the river Spree with three fishing houses and a small port for the barges that traveled twice a day to Berlin.
Mausoleum at the Palace's gardens
Depending on which side you come from, you can get there quickly with the S-Bahn (Ringbahn) or the U-7). I recommend to enter from the S-Bahn station Jungfernheide simply by the spacious park.
On this side of the site the flora is quite natural and you can wade through grasses or pick dandelions. Divided by many bushes, there are many nicheswhere you can take a nap at noon.
Refreshing and typically German: several small meadow sections are fenced in and carry a large sign "Liegewiese" (Sunbathing area), just as if you are only alowed to lay down in these areas. Well, I guess in the other meadows you are only allowed to stand…..
Halfway through the park is the mausoleum of the famous Queen Luise. Later it was extended as the burial place of other important members of the Prussian royal family.
A visit costs admission and because it belongs to the museums of Prussian cultural heritage (Museen Preußischer Kulturbesitz ), it is closed on mondays.
Stealing bay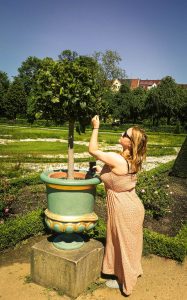 The long, perfectly straight paths remind you of how the complex was originally laid out: as an extensive promenade for the bored nobility and their flings, modelled after French ideal.
The closer you get to the castle, the more cultivated the park becomes. Unexpectedly, behind huge cypress trees (a rarity in Germany) the castle garden, trimmed to the smallest detail and including a carp pond, opens up. An impressive sight.
Here you finally find, what the true fun fact about this sight is: the cultivated bay-trees. You can stroll among them, admire the perfectly trimmed box trees and, if you dare, steal a few fresh leaves of the bay trees for your home ( I did too). Simply dry and then use. The perfect personal souvenir and a real Berlin one! We love our bay leaves.
Authentic dishes like Königsberger Klopse or Kartoffelsuppe (potatoe soup) are nothing without it. So next time, you invite your friends: serve a German dish made with Berlin's royal bay leaves. Enjoy 🙂
[ngg_images source="galleries" container_ids="5″ display_type="photocrati-nextgen_basic_imagebrowser" ajax_pagination="0″ order_by="sortorder" order_direction="ASC" returns="included" maximum_entity_count="500″]
---
Read more here:
Information:
Address: Spandauer Damm 20 – 24, 14059 Berlin
Opening hours : 11. July 1699
Opening hours:
10:00 18:00
Architectural style:
Baroque architecture
Architect:
Georg Wenzeslaus von Knobelsdorff
The author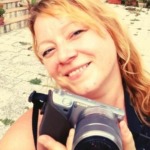 Hi, I am Susanne. Good food, history and traveling are my passion. I write about it whenever I can. Thanks for reading this article.
Image credits: Unless otherwise stated: ©Susanne Queck, ©Pro Stock Media via Canva.com or ©Unsplash.com. As an Amazon affiliate, I earn from qualifying purchases. The links marked with an asterisk (*) are so-called commission links. If you click on one of these links and make a purchase, I receive a commission from your purchase. This income helps us to run this website and to provide our recipes free of charge. The price does not change for you.