Things I discovered while travelling Scotland
Scotland's beautiful nature is well-known and perfectly right for those who seek adventure and outdoor activities. Also you find a fun language lesson with Gerard Butler  below. 

Located in the northernmost part of the UK, Scotland is a country full of mysteries, stories and rain.
But it has more to offer: a varied coastal architecture with rocky cliffs in the west and fine sandy beaches in the east, an astonishingly good food culture and friendly people. Many go there for outdoor adventures to one of the many Scottish counties.
Highlands like in the movie?

When I was young I loved the movie "The Highlander", starring Christopher Lambert, a lot. So I have taken off some time and spent almost 2 weeks traveling Scotland with my boyfriend
We picked May as the perfect months for our Scottish adventure. Like everyone, I had my own expectations and pictures in head about how the country would be, smell or sound.  On purpose we did not plan out details or places. We wanted to go where the wind would blow us. And like this, we went…. 
Our flights went to Glasgow (incredibly cheap, Ryanair 30€ return !) so we started there.  Here you can read a review of Ryanair flights.  Up north we took trains and buses and did the hop-on / hop-off system.
Well, at least we thought so. What we did not know was, that these go around every 3 hours only! As we did not have pre booked accommodations for the night, we had to make it at an appropriate time of day to a place that had accommodations. Outside of the cities villages are very small. We worked it out and have seen lots of landscapes and areas.
In the end, we made it up to Inverness and back down the east coast to Edinburgh. In an easy peasy chilling speed.
Very relaxing. Lots of sheep, lots of beer.
Outdoors in Scotland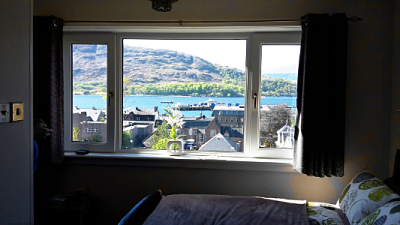 One of the trains took us to Fort William up in the Scottish Highlands, county of Inverness. We decided to spend the night there and see the fort.
Well, the fort was a quite disappointing, as it was just a very basic ruin. Or rather a little square with parts of an old wall around it. We should have read something about it first. But since we were there already, we went to the nearby Morrisons supermarket, got ourselves a bite and had a little picnic right at this old wall and watched the sunset. Very romantic, very windy … and very cold.
Later we discovered Fort William's true character: It calls itself Outdoor Capital of the UK! And it truly is. There even is a Mountain Gondola. Surrounded by mountains, Lochs and even bike tracks, it attracts many, many sportspeople every year and even races and cups take place.
So if you love outdoor activities or are looking for adventure activities in Scotland, go to Fort William!
For those of you who are planning on a van tour, there are parking lots to spend the night for as little as 3 GBP a night. In general, Scotland is well prepared for camping tourism and there are many possibilities for overnight stays and stops all over the country, sometimes completely free of charge.
Traces of Harry Potter in Scotland
Also, the famous Jacobite Steam Train is taking a stop in Fort William. During the summer months, the Jacobite Steam Train offers its passengers an unforgettable journey. A train ride leads through some of the most beautiful and magic areas in Scotland.
The train might be known to you from the popular Harry Potter movies as "Hogwarts Express". The extension of the Fort William to Mallaig was constructed by Scotland's West Highland railway line and started in January 1897. It completed in April 1901 and takes you on a ride through Scotland's nature and should be a part of every Scotland adventure.
Scotland believes in unicorns
Another thing I discovered was that Scotland's national animal is the unicorn. For real! 
Anyone can have lions and eagles. Scotland in return has the unicorn as its official heraldic animal. It has been regarded as a hero symbol since the 12th century and has even been embroidered on the clothing of the Scottish national hero William I.
It is also embroidered. In mythology, the unicorn stands for innocence and purity. Legend has it that only virgins possess the power to tame the mighty unicorn. At least in medieval Scotland, this was believed. That's why the heraldic animal is often depicted chained to houses and pictures.
Scottish kilts are still worn during day (sometimes)
An integral part of Scottish historical culture is the kilt. Alongsides the bagpipe, it draws a picture of the Scots that prevails in many heads. Less known to most is the fact that the history of the kilts does not go back far into Scotland's past.
Short history of kilts:
He owes his existence to a practical benefit and the invention of an Englishman. Somewhen in the 18th century, a factory owner (Thomas Rawlinson) employed, among others, Scottish men in his steelworks.

The traditional Scottish clothing, the wrapped plaid, was a real source of danger for the workers and an obstacle to their work. He aimed to developing a more practical garment in which he incorporated the folds of the traditional plaid.

The Scottish soldiers of the armed forces at that time discovered the more practical piece of clothing and thus laid the foundation for the Kilt's triumphal march in 1739. Read more
The striking colors and patterns of the tartan fabric have their own meaning and regional origin. Contrary to popular opinion, however, the individual patterns do not have anything to do directly with belonging to a Scottish clan.
It is more likely that regional differences in the production and processing of the fabrics dominated, thus producing different patterns and colors. Since people were buying regionally at that time, inhabitants of certain areas wore the same patterns. Thus, even members of a clan had different kilts.

Nowadays, kilts are worn mainly on special occasions or during the famous Highland Games. They are an expression of Scottish nationalism and pride, which has been strengthened by the unwanted takeover by England.
But nowadays, more young people of Scotland are rediscovering the kilt and wearing it also on sports events and other occasions of fun. Especially in the streets of Scottish cities, the kilt has become part of everyday life again. We saw this at bus stops, shopping and going out in bars.
---
For fun: Who wants to learn some Scottish dialect words with Scotsman Gerard Butler? Here you go:
---
Music is everywhere
In almost no other European country (Sorry Ireland, but you are in the top list too, of course!) music plays such a big role in everyday life and on the streets. People sing while walking, working in the shop or just waiting for the bus.
All this is only topped by the amazingly good street musicians in the shopping areas. You may expect them around every corner and they are really damn professional. No comparison with the average street musician in Germany. Why is that, I wonder?
I could even observe that cyclists came back in a curve to drop money into the briefcase of such a musician. Just my thing.
An interesting insight into the Scottish music heart can be found in a Scottish music guide on the great blog of local blogger Ian.
Scotland is not green
… at least not in springtime.
At this time of the year, when the curved mountain chains and plains are still light brown and dry, one single plant shapes the image of nature to a large extent: the gorse. These wonderfully fragrant, prickly bushes let the Scottish landscapes glow in bright orange-yellow.
This time of the year has a very special charm and is still free of mosquitoes, which you have to endure in summer.
Scotland's fast internet
We were most surprised by the excellent internet connection in Scotland. Free wifi is not only available in buses and other forms of public transport. You can also log in to the Internet free of charge on almost all streets of the cities, in many shops, cafés and bars.
As a digital nomad or just a person, who likes to be online, this is a fantastic place to be.
In Germany, my homecountry, this is unfortunately still a little underdeveloped, therefore we found the availability here very pleasant.
Cashless payment is also very easy in Scotland. In comparison with other European countries, it is thus far ahead of the rest. You can pay by credit card almost everywhere. Not only in shops and bars, but even very small amounts of money for tickets in buses and trains can be paid in this way. Top!
Here is more information about how much a trip to Scotland can cost you.
Yours,