Original Hungarian beef goulash
A good, hearty goulash (beef stew) is a treat for body and soul. It is easy for you to prepare at home with this basic Hungarian recipe. You only need to use a few ingredients and patience to make grandma's goulash. You can then make a delicious, tender goulash for your loved ones.
Porcolt (pörkölt) or Hungarian goulash?
This most famous goulash from Hungary and is often confused with the famous Pörkölt. Both dishes are traditionally cooked in a cauldron over an open fire. However, there are two major differences:
The kettle goulash is a clear soup with beef, fat and potatoes.
Pörkölt is a creamy goulash and is prepared differently.
Traditional Hungarian goulash
To get the typical taste for Pörkölt, the meat is traditionally braised with the spices in its own juices over the fire in a cauldron. In many restaurants in Hungary Pörkölt is now served as a plate dish. It is often topped with a dollop of sour cream. Our recipe for Hungarian goulash is a small variation of kettle goulash and can easily be prepared on the home stove.
About the main ingredients and secrets of the special taste
Beef
You can usually get the best flavor from this dish by using only a few ingredients. The quality of the meat is key to getting the best taste. Porkolt, or goulash, was originally made with beef. Goulash requires muscle meat from its underside. These are often pre-cut by the butcher. Because fat is the main flavour carrier, it is essential that the meat contains some fat.
However, calorie-conscious people can also use lean filet. The long braising time makes virtually any meat tender. Here you can read more about the different cuts of meat.
Paprika Powder
The second ingredient in goulash is paprika spice. You can choose to use hot, sweet, or smoked paprika spice, depending on your preferences. It is essential to get high quality paprika powder. It's best to avoid buying the cheapest paprika spices. Hungarian paprika is a good choice if you have the option. It's well-known for its distinctive aroma, giving your Hungarian goulash a unique taste.
Paprika powder from Szeged* and Kalocsa* is especially good. These well-known paprika growing regions are particularly sunny and produce excellent paprika varieties.
Tips for the perfect Goulash
If you add sour cream directly to hot dishes, the cream will flocculate. Therefore, always mix it with a little gravy first. Take a little of the goulash liquid and whisk well. Now add the mixture to the goulash while stirring. Bring to the boil briefly and that's it.
If there are too many onions, the goulash will be sweet. Make sure, not too use too many, but still a lot of onions.
The goulash will taste better if lard is used instead of oil for frying.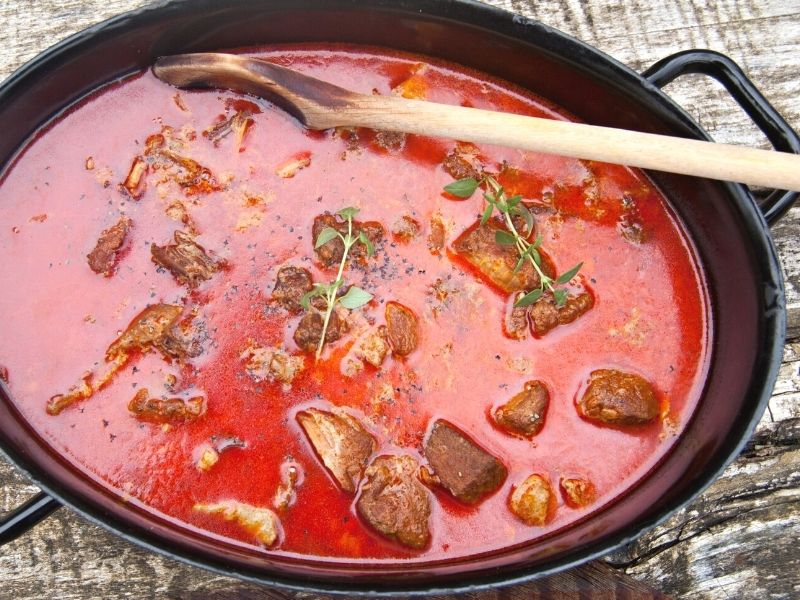 Variations
In Szeged goulash, sauerkraut is added to the meat and cooked for half the time. This results in a more substantial dish.
Instead of tomato paste, paprika paste can also be added. This gives a different basic taste.
For the Bohemian version, pork is used in part or exclusively.
The goulash can be spiced up with finely chopped smoked sausage, such as Debrecziner.
Dark balsamic vinegar can also be used instead of red wine; it gives the dish a flavour similar to wine.
The flavour becomes rounder if you add finely chopped carrots and cook them as well. This gives the goulash a slight sweetness.
Also try our ther stew recipes, like Gentse waterzooi: Belgian chunky chicken stew, Flemish Beef Stew: A Legendary Belgian Dish or Savoury Lamb Chop Casserole.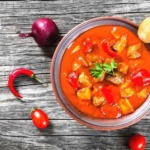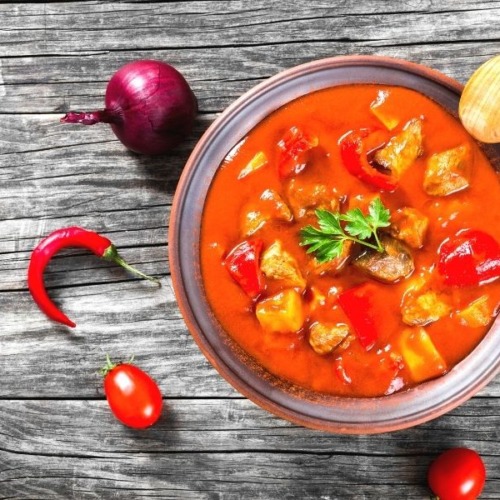 Traditional Hungarian beef stew: Goulash
Print Recipe
Pin Recipe
Share on Twitter
Ingredients
1000

g

beef

50

g

lard

or cooking oil

2

onions

medium size

250

ml

red wine

dry, optional

salt & pepper

1

pinch

sugar

3

tbsp

tomato purée

2

tsp

paprika powder

1

bay leaf

2

cloves

whole

2

pieces

star anise

whole

Sour cream
Instructions
Cut the meat into small cubes. Size the cube to your liking. It can be cut thicker or thinner. Finely chop the onion and heat the lard or butter in a long saucepan. Slowly fry only the meat over high heat.

Add enough meat to cover the bottom of the pan and cook, stirring occasionally. Then remove the brown meat from the skillet and place it temporarily on a large plate. Fry the meat gradually.

Then add the butter to the pan, reduce the heat to the stove, add the onion and cook over low heat until tender. Stir with a wooden spoon. Then add tomato paste and fry for a few minutes with constant stirring. Add the paprika powder, which will get the characteristic roasted flavor. Now add bell pepper, salt and pepper and mix well. Pour the brown meat completely into the skillet and fill in the red wine.

Add bay leaves, star anise and cloves. If necessary, you can add some more hot water.

Now, at medium temperature, let the stew cook covered in its own juice for at least 1.5 hours. 2 to 2.5 hours is even better. Stir occasionally to make sure enough liquid remains. Pour boiling water or red wine on the side only if necessary. It is best to use a small amount of liquid at a time without directly touching the meat. The meat needs to be boiled in its own juice so that it has a distinctly Hungarian flavor of percolt!

After the cooking time is up, remove the spices and add a little hot water if necessary. Add a pinch of sugar and stirr.It is now ready to be served.
Serving:
1
portion
Sodium:
269
mg
Calcium:
100
mg
Vitamin C:
11
mg
Vitamin A:
816
IU
Sugar:
4
g
Fiber:
2
g
Potassium:
991
mg
Cholesterol:
178
mg
Calories:
727
kcal
Trans Fat:
3
g
Monounsaturated Fat:
22
g
Polyunsaturated Fat:
1
g
Saturated Fat:
19
g
Fat:
50
g
Protein:
45
g
Carbohydrates:
10
g
Iron:
6
mg