This rich and hearty recipe is one of the Belgian signature dishes. It fills and warms you, not only in Winter.
The Belgian kitchen is rich of hearty dishes, just like this one.
Serve this special recipe with French Fries or potatoes.
Find more Belgian recipes here.
Dark Flemish Beer Stew "Stoofvlees of stoverij"
Flemish Beer Stew is one of the most delicous Belgian dishes. It is eaten all year round and has a hearty, full flavour. Try our recipe and enjoy.
Ingredients
1

kg

2 to 2.5 lbs stew meat, cut to medium sized cubes

100

ml

of dark beer

originally "Rodenbach" beer

2

medium sized onions

1-2

slices

of dark brown bread

2

tbsp

yellow or Dijon mustard

2

tbsp

of dark brown sugar

1

clove

2

laurel bay leaves

1

clove

of garlic

2-3

sprigs of thyme

a balsamic vinegar or apple cider vinegar

1-2

tbsp

butter

salt & pepper
Instructions
Take a big pot with a thick base.

Wash the stew meat and remove from tendons.

Cut the onions into not too thin slices, mince the garlic cloves.

Add butter to a frying pan and fry the meat chunks until browned. Add the onion now.

Fill the herbs and spices into a tea egg so you can easily remove them at the end.

Add the dark beer and all the spices in the tea egg.

Cover the pot and let it simmer on low heat 2 - 3 hours until the meat is tender.

Uncover the pot, add the mustard and place the slices of bread on top of the dish. Let it simmer until the desired thickness of the stew is reached. The bread will slowly dissolve and thicken the dish.

Remove the herbs.

Add the vinegar and stir.

The stew is now ready.

Serve with French Fries.
Notes
For the stew meat, choose shoulder meat if possible.
For the dark beer, choose a brand not too bitter in taste. IPA is not a good choice for the Felmish beer stew.
The author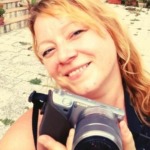 Hi, I am Susanne. Good food, history and traveling are my passion. I write about it whenever I can. Thanks for reading this article.