Traditional apple pie is an all-time favorite and the taste of my childhood. A high quality dough and fresh apples give this apple pie an incomparable taste. You can go wrong with this easily and quickly prepared apple cake recipe. Grandma's apple cake is the best!
To achieve a perfect result it is crucial stick to the amount of ingredients for the apple cake dough. While cooking allows improvisation and variation, baking requires an exact balance of the ingredients. This is the best way to make your apple pie juicy and irresistible.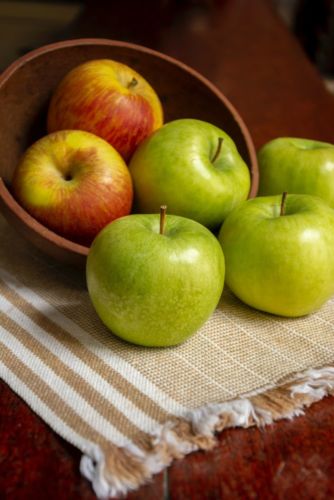 Which apples are best to use?
Grandma's style apple pie is best made with sour apples, freshly harvested in your region. I prefer Boskop apples, but you can also try the following varieties:
Red delicious: sweet, can be stored for a long time
Elstar: very aromatic, slightly acidic
Boskop: fruity and very aromatic
Jonagold: sweet and at the same time slightly sour, very pretty apple with red color, the best choice if you want the cake to look nice and special.
How many apples you use is up to your taste, between 1 and 6 all is good.
How to bake my apple pie?
You can bake the apple pie in any cake tin imaginable. Traditionally, however, it is baked in an apple pie springform pan. You can also get your apple pie out of the oven quickly and onto the table on a baking tray. The apple pie sponge cake adapts to your springform pan. Try a fancy form, like a heart.
JUICY APPLE PIE: VARIATIONS
This recipe contains cinnamon, but with a few simple changes you can quickly vary this apple pie and add other notes to the taste. If you don't like cinnamon, just leave it out. Here are a few suggestions:
Fresh mint: Mix some brown sugar with chopped mint and sprinkle over the cake after baking.
Sweet vanilla: Vanilla brings out the sweetness of the apples.
Spicy nutmeg: Grate a small hint of nutmeg over the sliced apples before layering. This combination may seem unconventional, but it works!
Caramelized almonds: Caramelized almonds are a wonderful topping.
Christmas mood: fried in butter with sugar and cinnamon: This tickles a christmassy taste out of the apples.
For a special crunch, sprinkle a little brown sugar over the cake before baking. It will caramelize during baking and create a wonderfully delicate crust.
Here are our tips at a glance:
use sour apple varieties, e.g. Boskop, Jonagold or Elstar.
use a round springform pan or a tin.
if you loosen the core from the blossom down to the stem, the apple pieces won't break.
place the chopped apple pieces in water or sprinkle them with lemon juice so they keep their color.
juicy apple pie can also be baked in a heat-resistant glass – a wonderful gift!
German grandma's yummy Apple Pie
Traditional apple cake as Grandma likes it! Our authentic recipe is a real treat and one of the most famous cakes in Germany. Try out our recipe and enjoy!
Ingredients
600

g

sour apples

250

g

flour

200

g

butter

200

g

sugar

4

eggs

1

sachet vanilla sugar

1

teaspoon

cinnamon

3

tablespoon

milk

1

sachet baking powder

1

teaspoon

cinnamon & sugar
Instructions
Peel the apples, core them towards the stem, quarter them and cut them into not too thick slices. To keep them white, put them in vinegar water or sprinkle them with fresh lemon until the dough is ready. Don't worry, the apples don't take on the taste of the vinegar.

Mix the flour with the baking powder. In a separate bowl, stir the soft butter with the sugar, cinnamon, vanilla sugar and milk until frothy. Then add the eggs one by one. Stir each egg before adding the next one. When everything is frothy, add the prepared flour-baking soda mix. Stir the dough until it is fluffy.

Remove the apples from the vinegar water and drain them well through a sieve. Now pour them into the dough, mix well and pour the mixture into a springform pan.

The amount of apples determines the baking time from 40 up to 60 minutes at 160°.

Sprinkle with sugar and cinnamon immediately after baking and your apple pie's ready!

Now it's time to put the finishing touches to your fresh and juicy apple pie. Decorate the pie for example with caramelized almonds or place some lightly buttered apple pieces on top.

Guten Appetit!
The author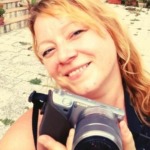 Hi, I am Susanne. Good food, history and traveling are my passion. I write about it whenever I can. Thanks for reading this article.