-
Fried liver with onions is a classic among German dishes. Served with mashed potatoes and, depending on the region, braised apple and / or celery puree, this dish is both down-to-earth and true comfort food.
Roasting liver is easy and fast. Our old fashioned veal liver recipe is based on the Berlin variant with apple and onion. For us this is the best traditional liver recipe!
Which liver to prepare?
In most regions the liver comes from the calf, but you can also take pork´s liver or even from lamb or chicken. Chicken liver is smaller and therefore fried uncut.
Using pork´s liver
Our original recipe contains veal liver. If you prefer pork´s liver, it is safe to fry and eat.
In particular, the liver supports the formation of blood in the human body. In the case of anaemia due to iron deficiency, doctors even used to prescribe raw liver for consumption in former times.
In the case of roast pork liver, it is important that it comes from a young animal. So be aware of that when you buy it.
Is liver healthy? 
A healthy liver contains vitamins A, B1, B2, B3 and the vital vitamin B12, which the body cannot produce itself. The liver contains many vitamins and minerals.
But beware: pregnant women should avoid liver because of possible pollutants.
Where to buy liver for the recipe
It's best to buy liver fresh from the butcher or even from the organic market. Since liver tastes best when it's not fried too long and still pinkish and tender, you should ensure good quality. It's not just a matter of preparing the liver!
With a fat content of only about 5%, liver is also a lean pleasure.
Preparing the liver for cooking
First the liver has to be washed and freed from all coarse tendons and the surrounding skin. Especially the outer skin should be removed, because otherwise the liver pieces will roll up in the pan, because the skin will shrink during roasting.
In the past, the liver was soaked in milk for a few hours before preparation. This should reduce the bitter substances. With fresh side dishes such as onion or apple, however, this is hardly necessary today.
How to get soft liver
To prevent the liver from hardening during roasting, always salt it after cooking. This applies to almost all types of meat, by the way. When preparing the liver, take care not to fry it too long, that also makes it hard.
What can I serve with liver and onions?
Traditionally fried liver served alongside potatoe mash. The butter, used for frying liver, onions and apple is added on top of a hill from mash potatoes. Simply yummy!
You can also serve freshly baked, dark bread or hash browns. Everything of potatoe goes great along with our fried liver recipe. 
Onion gravy
If you prefer eating your liver recipe with onion gravy, you can easily create your gravy using roast stock in the frying pan. Add a little red wine and let the roast stock boil up lightly so that everything comes off the bottom.
Now mix some starch or flour in a little cold water and add it to the frying pan. Stir for about 1 minute until the sauce has the desired consistency. 
Here is the original recipe:
The author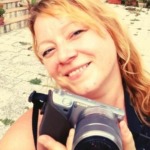 Hi, I am Susanne. Good food, history and traveling are my passion. I write about it whenever I can. Thanks for reading this article.