Travel Hacking for beginners in 2021
Do you love to travel? Have you ever wondered how to get free flights? Do you want to travel for free or nearly free? If so, you need to start travel hacking! Wait, what? What is travel hacking and how is it done?
Follow along as we tell you all about it in this beginner's guide to travel hacking.
This article is written in collaboration with TravelHackingMom.
Definition of travel hacking
Travel Hacking means applying for credit cards, completing a certain amount of spendings on that card (minimum spending), receiving bonus points for doing that and using those points for free travel (minus taxes and fees) or free hotel stays. Sounds easy, right? But how to start?
Credit card applications for free flights and hotels
The first step in travel hacking is to apply for credit cards that offer bonus points if you complete the minimum amount of spendings on it, specifies by the credit card rules. When you sign up for a certain credit card, they often offer a welcome bonus to new customers. The amount differs, but usually will be something like "earn 30,000 points after spending $2,000 in 4 months".
The idea behind travel hacking is, to use the credit card as often as you can to collect the points. These points you use for booking flights, accommodation or upgrades. This way you can get around for free or really cheap.
When you have finished a trip, just repeat and go on a free tour again with your points.
What credit cards for a free bonus?
There are different types of cards that you can apply for. These include:
Hotel-branded credit cards
Airline-branded credit cards
Business credit cards
Transferable point credit cards (like American Express)
Cashback credit cards
Which card you sign up for depends on current offers, your travel plans, and your personal preference.
We really like the Chase Sapphire Preferred Credit Card as a first card because you can transfer the points into airline miles or hotel points through the Chase portal.
Hotel-branded credit cards
Free hotel stays are often offered by hotel chains. Many have own credit cards, like Marriott, Hyatt, or Hilton credit card. Get one of each and use them as often as possible.
Airline-branded credit cards
If you always use the same airline that flys out of your local airport, get the credit card that is branded by that airline. You can use the points for upgrades or free flights. Also check for special seasonal offers with a high number of possible points.
Business credit cards
Not only can you get personal credit cards, if you sell items on eBay, Amazon or the local classifieds, you can get a business card. Teach music or sports, or nanny? Are you a distributor for an MLM company? Do you make and sell crafts? Are you a photographer, blogger, freelance writer, baker or Uber driver?
Almost any side gig will let you apply for business credit cards and you can get more points. Check the different options and combine for the maximum outcome.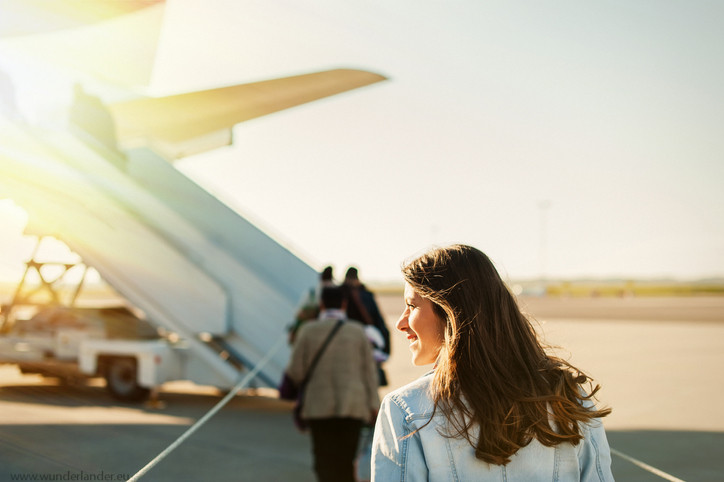 Transferable Point Credit Cards
Ttransferable rewards cards can be used for travelling also. You can use your points or miles for different things as hotels, flights but also for products and other services. The mst famous ones are Amercian Express, Chase and Capital One.
Cashback credit cards
Cashback credit cards allow you to receive a certain percentage or amount of your spendings as a credit back to your card. When choosing a good card, have these important features in mind:
No transaction fees: on international trips it is important to have free use of your credit card. However, this is irrelevant when using it only for domestic purchases.
Visa and Mastercard are widely accepted, while Discover and American Express cards sometimes are not.
Check for a low cash-back redemption, for not having to wait long to earn a statement credit.
Use your credit cards for everything to reach the minimum spend
Once you sign up for a credit card and get approved, you will use that card for everything you spend money on. Don't use cash or debit cards. Put everything on that credit card including groceries, car fuel, utility payments, internet, dining out and entertainment and anything else you can pay with a credit card. Just be sure and pay your credit card off every month or travel isn't free!
Planning a trip with your points
Once you have started accumulating points, it's time to start planning how to use them. I have traveled to Hawaii, London, Vietnam, Greece, Italy, Dubai and Amsterdam, all with points and in business class seats.
I have also stayed in many hotels for free and even been upgraded to suites and had free breakfasts with my points. On the blog at TravelhackingMom, we show you how to make different trips happen with travel hacking.
You might want to plan where you want to go first and what credit cards you need to get to make that happen. Alternatively, you can be like me and sign up for one card after another and then plan your trips. I have earned over 3 million points this way and three years ago knew nothing about travel hacking.
Organization is everything
Keep your points, annual fees, and expiration dates of points organized by using Award Wallet or Travel Freely. Both keep track of your credit cards so you don't have to and make travel hacking so much easier.
Rinse and Repeat
In travel hacking, you do these things over and over again: Get a credit card, meet minimum spending, get your bonus points and get another credit card. Rinse and repeat, over and over again. The best advice we can give to beginners wanting to travel hack is to keep doing it.
Be careful about credit cards!
We still have to set a warning: Do not get into this hobby if you can't pay your credit card bill in full each month! It is not reasonable to get extra debts for getting points, because travelling is not for free then anymore.
We use our credit cards for everyday spend or large, one time expense that are necessary. This hobby shouldn't decrease your credit card scores. In fact, mine are better than they were before I started this hobby.
Travel hacking – the bottom line
If you love to travel, have good credit and would love to travel more, then this is the hobby for you.
We hope this beginner's guide to travel hacking has helped you see the possibilities that are available to you. Travel hacking allows you to travel for nearly free. You can choose to fly for free, stay for free or a combination of both.
You can fly domestically or internationally, in economy class or business class – it's all up to you! This crazy, wonderful hobby of travel hacking can open up the world to you!
---
This is an article by Alex Payne and Pamela Iorg, a mother-daughter duo who are the Travel Hacking Moms. They have used credit card points to travel the world and love to teach beginners what they have learned about travel hacking.
Social Media: