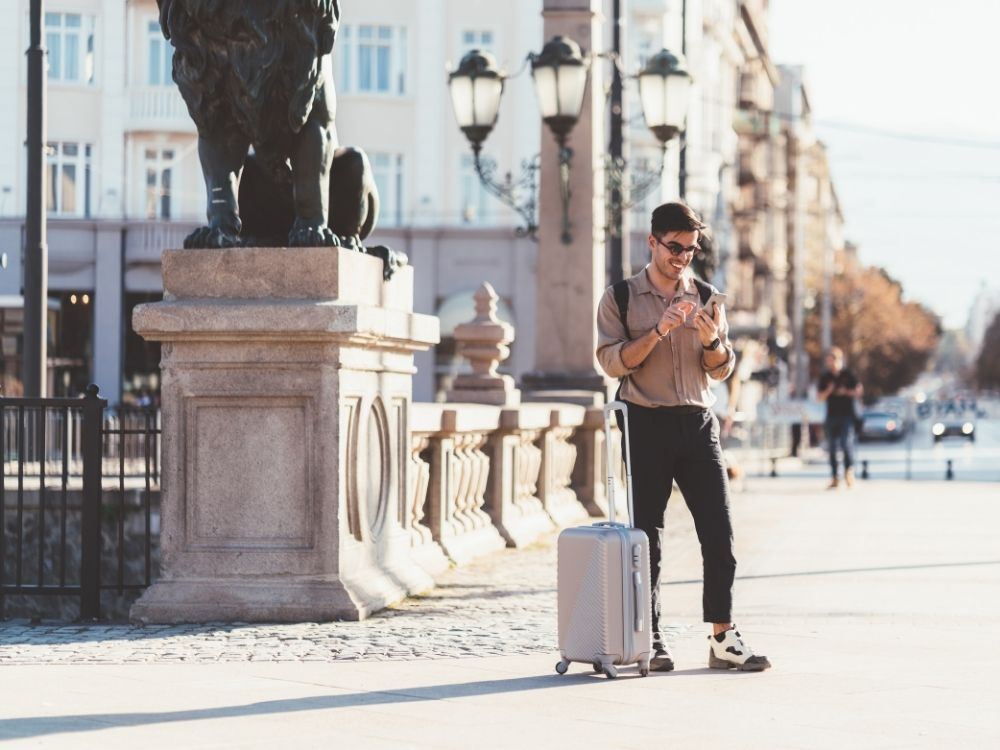 Solo travelers: Finding friends on the road
A little guide for solo travelers over 30 that can help you make new friends and connections on the road without having to party every day or sleep in a hostel. Especially if you stay longer in one place, some tips are really worthwhile.
Putting off your vacation because you're between relationships or your friends have used up their vacation days for the year? Solo travel can be less lonely than you think. I myself have been traveling the world mostly alone for many years and enjoy the good, but also the not so nice sides.
Traveling alone and still not lonely
It has long since become normal to travel alone, whether it's a short trip or a world tour.
Even if you are over 30 and certainly don't want to sleep in a hostel bed in a room with 4 or 8 beds, you can still get in touch with others. If you want to.

While there are times when you'll certainly want to enjoy being alone, it's not that hard to connect with others while on the road, whether locals or other travelers and expats. No matter where you're traveling or what your budget is, just try these suggestions to make new friends on your next trip and keep in touch with them when you're back home.
Making friends as a solo traveler – tips
Choose guesthouses or private rooms instead of big hotel chains.
Anonymous hotels make sense for business travelers who need efficiency. Sometimes they make sense for you, too, especially if you want to relax for a few days with good service. But in smaller accommodations or with rooms in locals' homes, you're likely to meet a wider range of personalities. Try Airbnb, small hotels, Couchsurfing, hostels or family guesthouses.
Learn language basics.
A few phrases of each language is certainly in there for anyone lazy about languages. Even if you don't have the time to speak them fluently, apps make it easy to practice a few phrases. The big apps like Busuu, Babbel or Duolingo offer a wide range of languages. For the less spoken languages, you can easily google it. Most locals will appreciate it if you make an effort and that's a good icebreaker.
Use a social app.
A growing number of apps allow you to use your smartphone to find a travel companion and coordinate arrangements. This goes from travel groups to expat meetups to dating. Facebook travel groups, the backpackr appTinder & Co. and event platforms like Meetup are well suited and popular. Look especially at expat and expatriate groups on Facebook, there is a wide selection here. Just search for "expat xy" (xy=your destination).
Volunteer.
If you don't want to just party to get to know people and you're tired of the sometimes superficial conversations, get involved locally as a volunteer. Here you will mostly meet older people who
have a certain attitude.
Browse the offers on sites like Workaway, Holiday for help or check out Wooofing. Here, free meals are often still offered in return for your time. You can also contact charities directly and ask about local opportunities.
Meet distant acquaintances or relatives.
You may feel safer if you have someone to greet you when you arrive. Ask family and friends if they know anyone at your destination or look for local members of organizations to which you belong. Arrange to meet them for lunch or coffee if they are available.
Be flexible and open-minded; don't make too many plans.
The unexpected often brings surprises. However, if you've already planned everything out, it's easy to overlook things that come up along the way. So always leave a little room for the unexpected, especially when talking to locals who might spontaneously invite you home for dinner. Talk to strangers and try out locally common activities.
Eat or drink outside the home.
Eating together encourages conversation. In restaurants or bars, if possible, make sure you sit at the counter rather than at a private table. It's easier to strike up a conversation with others that way. Because sooner or later, everyone passes by the bar :-). Eating street food or snacks on a park bench have also helped me make interesting contacts.
Be active, pursue your interests.
In doing so, you will also meet others who share your passion. Be it sports, an artistic hobby, or maybe dancing. Look for local meetup groups, clubs or check local media for classes, festivals or special promotions like tastings.
Ask locals.
Sounds trite, but it works every time: ask locals or other travelers for directions, information or recommendations. Most of them are happy to help you. Very often I got a lot of interesting information about the place or the country from cab drivers.
Join a group
If you still have more time to yourself than you'd like, or you're tired of arranging your own itinerary, let a guide take over for a while. Most cities have free and paid city tours or walking tours, as well as visits to various museums, monuments, and neighborhoods. You can find these on Facebook groups as well as local media
Take the bus or train.
You'll be surprised how many contacts are made during a shared intercity bus ride. Because of the relative closeness, you'll almost automatically strike up a conversation and pass the time on the ride
If you keep an open mind, you will discover many opportunities to make new travel friends wherever you go. Connecting with others will enrich your travel experience, whether your paths cross only briefly or you become lasting friends.
Want some more inspiration and tips?
Business trips: Ultimate tips and hacks
Experimental travel – caffeine for the imagination