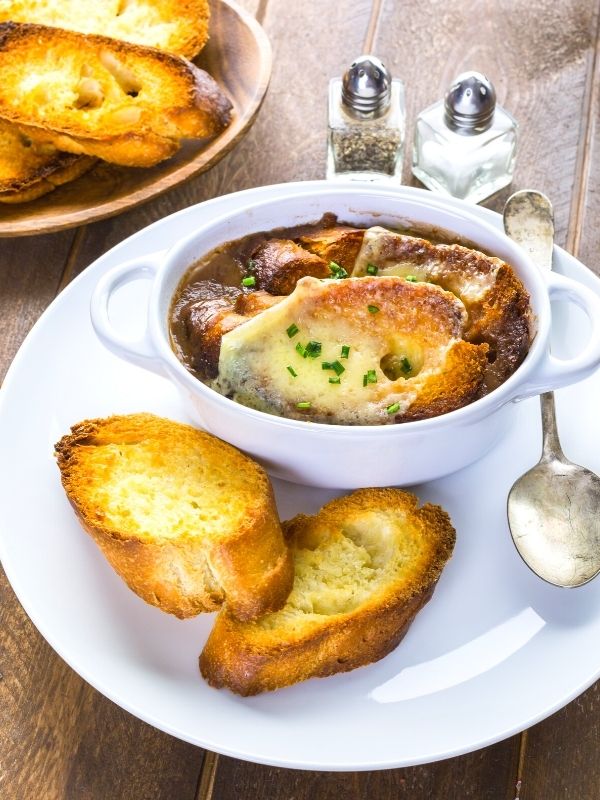 Red French style Onion Soup
-
French onion soup is a hearty specialty that consists of an aromatic onion soup and bread topped with cheese. This onion soup has a wonderful gourmet aroma thanks to the use of red wine. This recipe is perfect for entertaining at parties such as Christmas or birthdays. You will love this recipe!
Original French onion soup
A more liquidized version of onion soup is now popular in many countries. In which case, you add a slice bread with cheese. However, the original French version is being eaten differently.
There is no wine added.
From the beginning, onion and stock are combined. The onion is then strained and divided into portions.
Next, alternate layers of toasted bread with grated Gruyere cheese are placed on top.
Just add the onion broth to the end.
The result of the original recipe is a full meal that is more like soggy bread and lots of cheese.
If you prefer a more liquid, lighter version, for example as a starter soup, cook it as in the recipe.
Which red wine is suitable?
A fruity, young, not too heavy red wine with few tannins is best. Whatever you don't use for the soup, you can simply drink with it ;-). If you prefer white wine, go for a French wine. If you can't get any, Pinot Gris or Riesling are also good.
Looking for more soups? Try Courgette and brie soup or the Traditional Hungarian fish soup "Halászlé"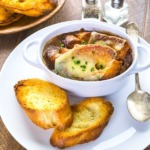 French Onion Soup with Red Wine
Print Recipe
Pin Recipe
Share on Twitter
Ingredients
2

tbsp

olive oil

25

g

butter

5

onions

thinly sliced

2

garlic cloves

finely chopped

1

sprig

of thyme

1

litre

beef stock

2

tbsp

balsamic vinegar

250

ml

red wine

250

g

Gruyere cheese

grated

1

baguette bread
Instructions
In a large saucepan, melt the butter and olive oil. Once the butter and olive oil are hot, add the chopped onions to the pot. Cook on high heat until they start to brown.

Continue to cook on low heat for about 15 minutes, or until the bottom is browned and the onions are tender.

Then, add the chopped garlic cloves and the thyme leaves. Let simmer for 5 minutes.

Stir in the beef stock, red wine and vinegar. Make sure to scrape the bottom of your pan. Bring to a boil again, then reduce heat and simmer for another 20 minutes.

Season to taste with salt or pepper.

Just before serving, cut the baguette in 1cm-thick slices. Then brush both sides with olive oil. Toast both sides under the grill of your oven or roast in a dry frying pan.

Sprinkle one side with grated cheese. Place the other side under the grill to melt the cheese. Serve the soup in bowls. Top with the cheesey toast.

Serve immediately.
Serving:
1
portion
Calories:
482
kcal
Fat:
32
g
Protein:
20
g
Carbohydrates:
16
g