Red Hungarian fish soup "Halászlé"
This is one of the most loved Hungarian appetizers. Because Hungary doesn't have access to the sea, but has many standing water sources, it is made with freshwater fish. This healthy and authentic recipe is waiting for you to make it at home.
Fish soup in Hungary
Fish soup is a great choice in Hungary. However, it can be difficult to get used to. Usually you will find bones and heads in the soup also. You can make this dish at home and just use filets, if you prefer.
Traditional carp is the main ingredient. A good deal of paprika is used to brighten the soup. But you can also use other fatty fish. If you want it a bit bound, cook a few potatoes with the broth. These give the soup a nice binding.
What kind of fish for the basic broth?
As for any fish soup, you can take different kinds of fish for your fish broth. Traditionally, either many small fish, fish heads, bones and the tail are taken for this. After the broth is cooked, the pieces are discarded, they are not suitable for eating. However, they give the broth a nice strong taste. Add some fresh fish filets to serve it with.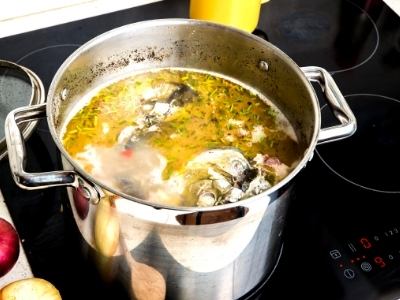 Fish to add to the soup before serving
Try these kinds of fish for a perfect taste:
White fish with a firm meat, as halibut or cod
Red snapper
Tilapia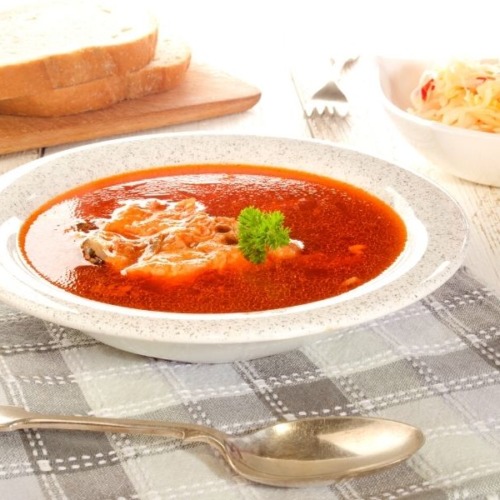 Traditional Hungarian fish soup
Print Recipe
Pin Recipe
Share on Twitter
Ingredients
500

g

fish pieces

or fish carcasses

500

g

white fish

firm, originally carp, but any other fish will do

2

onions

1

bell pepper

2

tomatoes

big, or 3 medium sized

1

carrot

big

100

g

celery

1

tbsp

paprika powder

Hungarian

100

ml

white wine

dry, optional

salt
Instructions
Clean and trim the fish pieces or fish. Skin and quarter the tomatoes. Cut the peppers and onions into rings. Cut the peeled celery and carrot into pieces. Place everything in a large pot. Cover with water and cook the mixture on low heat for about 30 minutes to produce a fish broth.

Next, drain the broth using a sieve. The small fish and fish remains should be thrown out.

Bring to boil the water with the white wine. Season the soup with salt and paprika. The soup should be rich red colored.

Cut the filet of carp into 8 slices. Place them into the broth and simmer for about 30 minutes on low heat. The broth should not be stirred. Just gently move the pieces of fish around from time to time.

This soup can be made even more spicy by adding cherry peppers or hot bell peppers.

Serve with rustic bread. Enjoy your meal!
Serving:
1
person
Sodium:
168
mg
Calcium:
63
mg
Vitamin C:
52
mg
Vitamin A:
4105
IU
Sugar:
7
g
Fiber:
3
g
Potassium:
1175
mg
Cholesterol:
125
mg
Calories:
313
kcal
Monounsaturated Fat:
1
g
Polyunsaturated Fat:
1
g
Saturated Fat:
2
g
Fat:
5
g
Protein:
52
g
Carbohydrates:
12
g
Iron:
2
mg