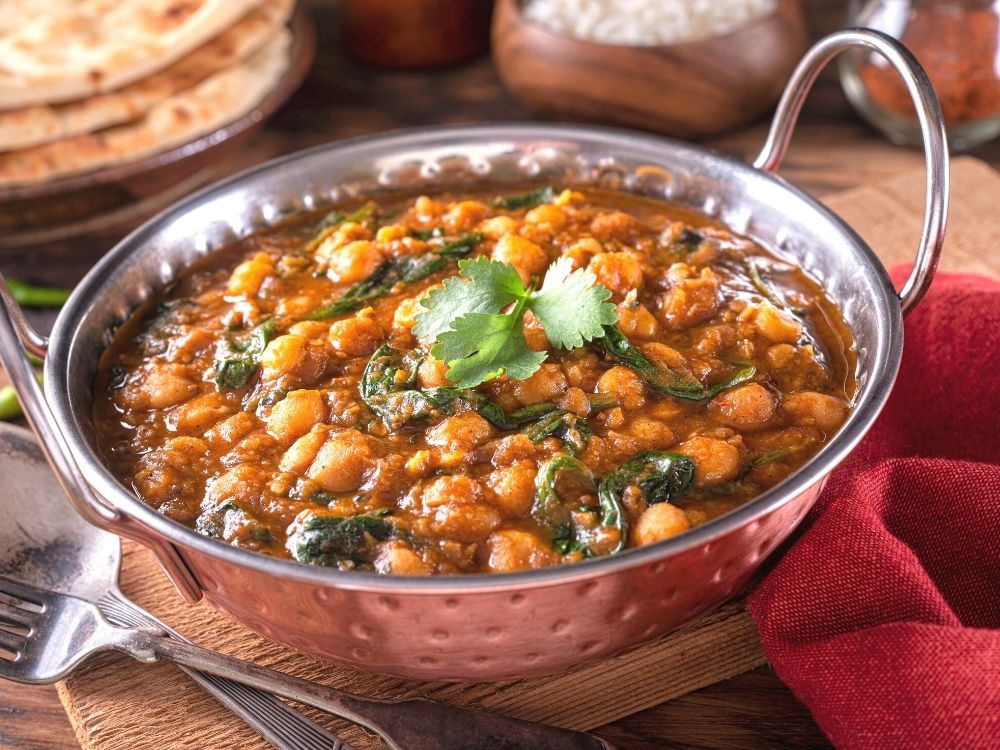 One Pot Chicken Chilli with spinach and chickpeas
This Slimming World healthy chicken recipe is simple to prepare and great for meal preparation. This is a great lunch idea, even if you don't know what to cook. This is my favorite slimming-world chicken dish. Let's get started.
What parts of chicken to use?
This One-pot chicken recipe uses chicken thighs rather than chicken breast. You can make this recipe into a chicken breast one. The meat of the chicken legs is much more tender than that of chicken breast. I like this one. You can also use chicken breast if you prefer a more substantial bite.
Tips to make your Slimming World chicken recipe a success
Because chicken thighs can appear dull and grey if this is not done, I recommend that you try to get as much colour from the chicken during the browning process.
300 ml chicken stock is what I used. However, this will depend on your pan, whether you use gas or electric and how fast you simmer the sauce. Add more water if the sauce appears too dry at the end of the cooking time.
You can reduce the liquid by taking off the lid and simmering the mixture for another few minutes to get the right consistency.
How spicy do your taste buds like it? It's difficult to pinpoint the right amount of each type of chilli in a recipe. If you aren't sure, you can always use one less chilli and increase the next time.
Enjoy
Also try our Burgundy Chicken Casserole Recipe and the yummy Belgian chunky chicken stew.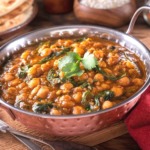 One Pot Chicken Chilli mit Spinat und Kichererbsen
Print Recipe
Pin Recipe
Share on Twitter
Ingredients
1

kg

Hähnchenschenkel

ohne Haut und ohne Knochen oder 1,5 kg mit Knochen

2

Esslöffel

Olivenöl

1

Zwiebel

in dünne Scheiben geschnitten

2

rote Paprikaschoten

in Scheiben geschnitten

2

Knoblauchzehen

fein gehackt

1

Esslöffel

Tomatenmark

400

g

Kichererbsen

1 Dose, abgetropft

400

g

gehackte Tomaten

1 Dose, abgetropft

300

ml

Hühnerbrühe

3

rote Chilischoten

entkernt und fein gehackt

1

Teelöffel

Tabasco-Sauce

100

g

Babyspinat
Instructions
Schneide die Hähnchenschenkel in etwa 3 cm große Stücke. Geben Sie sehr wenig Öl in die Pfanne und braten Sie die Hähnchenteile schubweise, bis sie goldbraun sind. Die Hähnchenteile aus der Pfanne nehmen und beiseite stellen.

Die Zwiebel und die rote Paprika in der gleichen Pfanne in Olivenöl anbraten und dabei den gesamten Bratensaft des Hähnchens verwenden.

Nachdem die Zwiebel weich geworden ist, den Knoblauch in die Pfanne geben und ein paar Minuten weiterbraten. Das Tomatenmark, die Kichererbsen und die gehackten Tomaten unterrühren. Die Hühnerbrühe, die gehackten Chilischoten und die Tabasco-Sauce hinzugeben.

Die Pfanne abdecken und etwa 30 Minuten köcheln lassen, bis das Huhn weich ist. 3 Minuten vor Ende der Garzeit den Spinat in ganzen Blättern in die Pfanne rühren.

Mit Reis, Quinoa oder Buchweizen servieren.
Serving:
1
Portion
Sodium:
284
mg
Calcium:
88
mg
Vitamin C:
66
mg
Vitamin A:
3054
IU
Sugar:
8
g
Fiber:
7
g
Potassium:
753
mg
Cholesterol:
62
mg
Calories:
380
kcal
Monounsaturated Fat:
9
g
Polyunsaturated Fat:
4
g
Saturated Fat:
5
g
Fat:
20
g
Protein:
24
g
Carbohydrates:
28
g
Iron:
4
mg