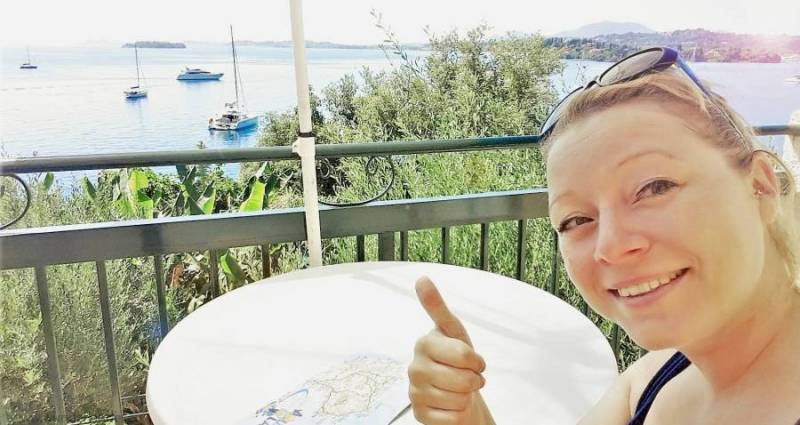 My 5 favorite Spots in Greece
I tell about my top 5 most favourite spots in Greece. Not only the islands but especially these are gems you should not miss out. Greece is rich in history and has seen some wild times. Therefore it is home to many old buildings and churches. If you think of ancient or medieval ruins, don´t only think of Scotland or Italy. It is right here.
I show you my top 5 favorite spots of stunning beauty at the Greek mainland and the islands. Some are mostly unknown, so you probably will be alone there.
1. Island Corfu: Kaiser's throne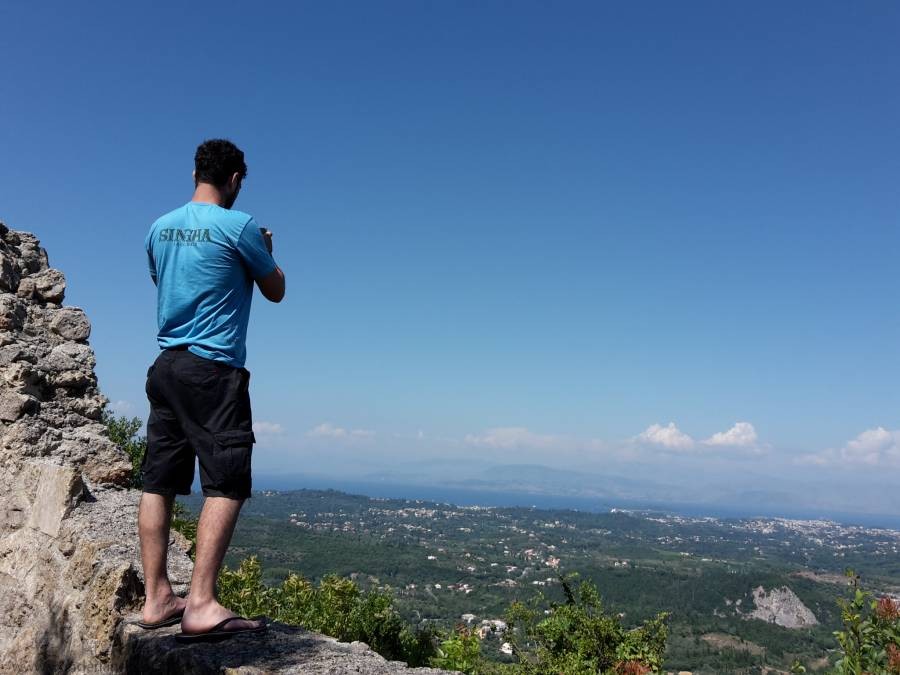 Roundabout 13 kms from the main city Corfu, the mountain village Pelekas is located.
The way up to Pelekas is winding and long but at its final point you will find a fantastic viewpoint called "Kaisers Throne". It is named after the German Emperor Kaiser Wilhelm II. He used to spend his summers in Corfu and for that bought Achilleion palace in 1907.
Although he was staying in the palace on the east coast, Wilhelm loved to drive all the way to Pelekas only to watch the sunset.
The 360-degree panoramic view from the mountaintop is breathtaking! Not only sunsets, also during daytime you can enjoy the fantastic views overlooking the whole island.
If you feel hungry: On your way up the winding roads, you can find the "Pink Panther" restaurant, a place serving Greece cuisine as well as Italian food. It does not look like much but the food is very good, affordable and the view down at the bay is stunning! Try the lamb chops!
2. Island Crete: Venetian Fortezza, Rethymnon
The well known Fortezza is the most conspicuous building in Rethymnon. It ascends on a stone slope Palaiokastro on the west side of town next to the beautiful Venetian port.
On the Fortezza there was before an antiquated sanctuary of the goddess Artemis.The stronghold was built for a long time (1537-1588). You have to pay a little entry ( 4€ when we were there), but it is absolutely worth it!
The view is stunning and the sea breeze is a cooling wind. At the foot of the Fortezza now lies the old town with its pleasant small boulevards and Venetian architecture.
From the fortification of Fortezza survive today the mosque of Sultan Ibrahim Khan with a substantial vault, the remnants of Government House, which was the home of counsels "minister" (the Venetian administrator), the congregation of St. Theodore, tanks, roundabout points and the dividers, which in many spots have been reestablished.
If you get hot, try a cool slushy recipe at home.
3. Island Skopelos
It is just amazing to be arriving by ferry at the picturesque port of Skopelos. You can reach this little island by plane also, but for the full experience, you should go by ferry.
A whole pack of churches and chapels can be found here and you will wonder, how a few people could need so many of them. One of them was the filming location of the famous Mamma Mia movie, the Agios Ioannis Kastri church. Although the movie exaggerates hopelessly about the size of the church´s inside, it is still worth walking up the hill and take a look over the whole island.
The narrow road up the church goes from the little mountain village Gloassa and can be missed easily. The church is accompanied by a big olive tree and little benches for two. We were absolutely alone there, feeling great and having a romantic moment.
4. Meteora in central Greece
A view from Meteora is dynamite regardless of where you stand!
While Greece is loaded with lovely views and destinations, you'd be unable to discover one more one of a kind and with such a variety of breathtaking perspectives as you get in Meteora. In case the unearthly scene of monstrous column like mountains aren't sufficiently striking enough, there has been constructed a monastery on top of them!
6 of the originally 24 cloisters are still being used by monks and for religious events. Some of them can be reached with a cable railway. One of them, the Agia Triada Cloisters has been the shooting location for a James Bond Movie.
5. Where two oceans meet – between Prina and Kalamafka
There is one inconspicuous but wonderful place between two oceans and a lot of silence – a viewpoint without a name, that lets you look over two oceans: the sea of Crete and the Libyan sea.
You can easily miss it on the road between the villages Prina and Kalamafka. You recognize it by a yellow panel with a blue typo in English and Greek language. As there is no parking space there, you gotta leave your car nearby and walk up the path on foot. It is a completely free view and the wind is giving a little cooling.
Enjoy these great spots and share your experiences in the comment section 🙂
---
Find your tours and guides HERE and prebook before you travel to Greece.
---
If you don't know what to do with all of these beautiful pictures, you will take at these spots, check out creative ways of using your images.
xx