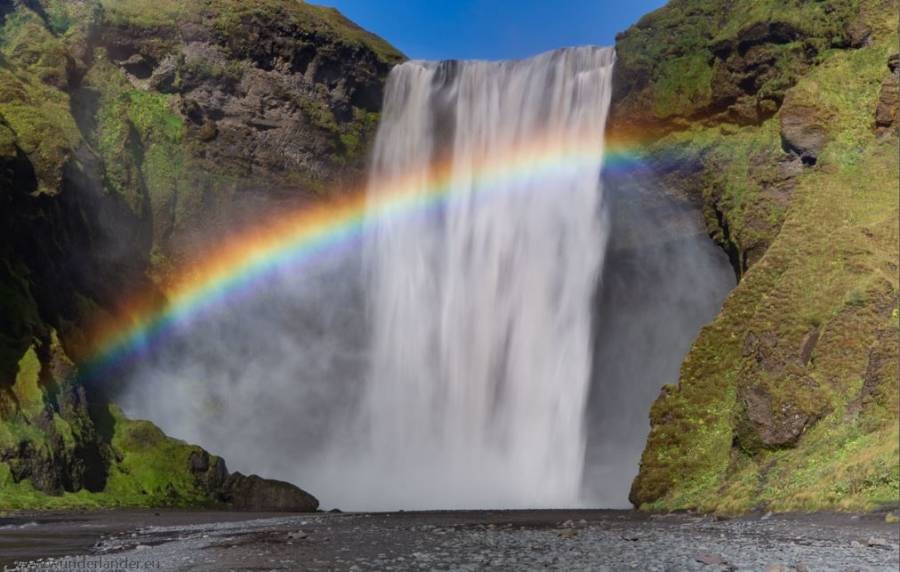 The 5 most photogenic waterfalls in Iceland
Iceland is the very remote island on the North Atlantic Ocean. Some people group it with scandic countries. Probably the reason for this is the language.
Legend has it, that Icelandic is Norwegian from the XIII century. At that time, Norse and Gaelic people settled Iceland, and it later separated for many centuries.
But today's Iceland is, among others, a top-rated tourist destination. Iceland's nature is breathtaking and visitors can be very close to a real experience. Harsh in winter and lively in summer – Iceland has many faces. One of the many wonders of nature are it's waterfalls.
This post is a collboration between Wunderlander and The Van Esacape. 
How did Iceland and its nature become so popular?
Iceland became popular after the famous Eyjafjallajökull volcano eruptions in 2010. Due to blocked flights over Europe for many days, there was no person in Europe and America who did not hear the volcano's name and the name of Iceland. But what is so attractive in Iceland, and why it draws people's attention? We believe that the main treasure of this island are waterfalls, and we will show you 5 of them below.
How many waterfalls are there in Iceland?
The various landscape of Iceland has been formed by the 35 volcanos ober millions of years. The large amount of rain creates wonderful waterfalls with rainbows. Nowadays you can admire more than 10,000 wateralls on the island. We want to introduce you to the top 5 most stunning waterfalls.
Kirkjufellsfoss – the model among waterfalls
Our list begins with a hidden treasure, that is not on everyone's list. Compared to other waterfalls in Iceland, it is not significant but it is fantastic from a photographer's point of view. It is accompanied by an impressive Mount Kirkjufell in the West of Iceland. These two create a very mysterious scene, especially around sunset time. You should not miss this.
[su_box title="How to get to the Kirkjufellsfoss view" box_color="#af9f25″]Waterfall and mountain are located on a magnificent Snæfellsnes peninsula. It's easy to miss this place, but if you drive towards west on road 54 and pass Grundarfjörður, look to your right – there it is. A small peninsula with the Mount Kirkjufell surrounded by water.
Opposite the mountain, you will find little parking space from where you can hike or walk to the waterfall. This leads you to the spot where you have the waterfall in the foreground and peak in the background.
The best time to visit this place is in June/July when you can have midnight sun, but you can try it in winter as well.[/su_box]
Svartifoss – the bizarre one
This waterfall in the South-Eayst is not very widely known, yet very beautiful. If you plan your visit to Vatnajökull National Park, you should schedule a hike to this beauty. The unique feature of this waterfall is its dark hexagonal basalt columns surrounding the fall itself. The name Svartifoss means black waterfall, and it probably comes from the contrast of the black rocks and white water.
[su_box title="How to get to Svartifoss waterfalls " box_color="#af9f25″]From the visitor centre in Skaftafell, you reach Svartifoss by an idyllic hike of around 1.5 Kilometres or 45 minutes. Watch out for some toher waterfalls along the way: Pjofafoss (Thieves' fall), Magnusarfoss (Magnus' Falls) and  Hundafoss (Dogs' Fall) are waiting for you.
If you plan to photograph this waterfall, please do not forget your tripod to make water look blurry and dynamic.
Best time to visit: Usually, you can take a picture at any time of day, but of course, it's best in June/July during white nights.[/su_box]
Seljalandsfoss
This is probably the most famous waterfall in Iceland. The waterfall itself is 63 meters high, but the unique thing is that you can go behind it and take great pictures from this perspective.
Tipp: Please remember that if the day is windy, you will for sure get wet, along with your gear, so be prepared.
[su_box title="How to get to Seljalandsfoss waterfalls" box_color="#af9f25″]If you pass this waterfall on the way to Vik, you will find Skogafoss, the waterfalls described next. It's very close to the road number 1 when traveling from Reykjavik to Vik. You just have to make a turn to road 249 and park your car on the visible parking lot. A short hike will lead you to the waterfall.
But it is worth to mention that the village of Vik and the area is fascinating itself, so don't miss the opportunity to explore it. You should spend there at least half a day and focus on the beaches and rocks nearby. [/su_box]
Skogafoss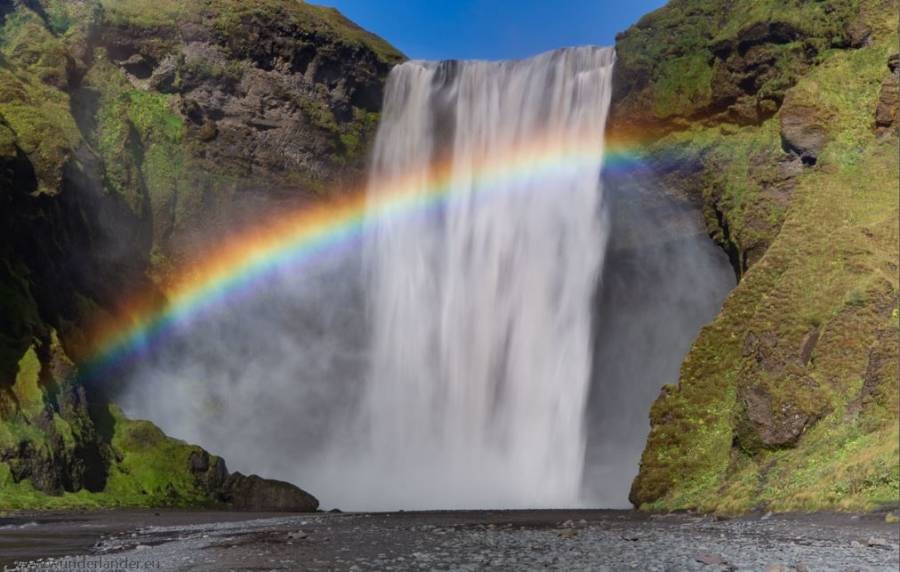 One of the biggest waterfalls is Skogafoos. It is among the most photographed and visited waterfalls. The waterfall itself is about 25 meters wide and 60 meters high. There's a short hike uphill on the right side of the waterfall, so if you would like to see it from above, it's possible.
Here very often you can spot a rainbow, especially on a sunny day. But don't forget that in Iceland, a rainy day can be bright as well – just wait 15 minutes as the locals say.
[su_box title="How to get to Skogafoss" box_color="#af9f25″]If you pass Seljalandsfoss on your way to the village of Vik, you can see the shape already on the left side.
Less than half an hour of driving on road number 1 to the Eastern part of the island, you should spot Skogar Museum. Park nearby and walk to the waterfall.
The best time to visit this place is afternoon just before sunset or early in the morning. If the day is windy, you can get wet.[/su_box]
Gullfoss Falls – the golden one
This waterfall is one of the most famous waterfalls in Iceland. It originates from the Hvítá river that flows southwards and creates a fascinating multi-level waterfall, also known as The Golden Waterfall. It belongs to the Golden Circle.
Fun fact:
An interesting fact is that this waterfall once was private property, and there were plans to generate energy out of it. Unfortunately (or fortunately), due to the lack of money, it never happened, and finally the falls were passed to the Iceland government and now is publicly accessible.
[su_box title="How to get to " box_color="#af9f25″]Many guided  tours are doing this route.
On the way you also see Geysirs and Þingvellir National Park. So you might have a chance to see this waterfall on your own or take one of the daily tours starting from Reykjavik.
You can see this waterfall from the above (parking area) or hike down. The hike is not long and lovely, especially downhill, and you can feel the drops from the waterfall on your skin.[/su_box]
Enjoy your trip to these beautiful and stunning waterfalls.
---
Collab author's Bio
Hi, we are Aga & Chris – two crazy photographers who love to travel. In August 2019, we started The Van Escape project in Vancouver. With freshly purchased old camper truck, we headed to Alaska to encounter some wildlife and fantastic landscapes. On our blog – The Van Escape – we try to combine the best travel and photo hints from visited locations. We hope it is beneficial for your travel plans!