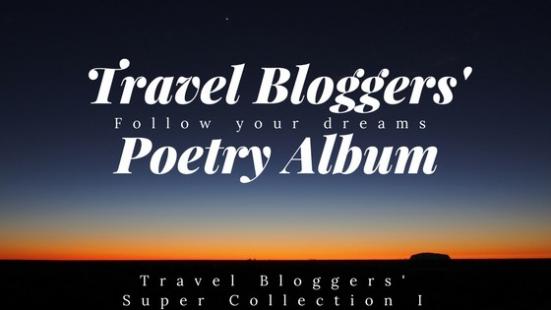 Poetry album: Favorite Places of Bloggers from all over the World!
I have asked travel bloggers from all over the world: What is your favorite place? I also asked them to describe traveling in their own 3 words. Here are the answers and stories.
If you also want to add your little story, check out the collab submission form.
---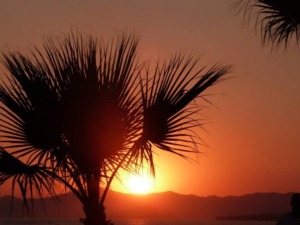 Emily from Emily´s Voyage:
Travelling is super important to me. My favourite thing about travelling is finding all sorts of quirky and unusual places. I love avoiding the big cities if I can, and instead I try to focus on the smaller villages. I find that this gives a more personal experience to your adventure. It's whilst on these kinds of trips, I have found some of the most amazing friends and heard such interesting stories. These encounters have been invaluable to me.
Tip: Always go off the beaten track. Look further to see what is out there.
Travelling in 3 words: Inspiring, Wonderful and Fun. 
---
Michael + Megan from Fresh off the grid: 
Over the past year, there are many places that we were familiar with only through photos that we finally got to witness with our own eyes. While not every place lived up to the hype, this particular spot sure did not disappoint.
Goldbug Hot Spring in Idaho was by far the most "epic" we have ever visited. The trailhead actually starts on private land, but a short and very steep two mile hike takes you up into the mountains. There, hot water cascades down stone ledges to create a natural infinite pool. The water is crystal clear, the bottom is gravel, and there is even a waterfall. While camping isn't allowed within 500 feet of the springs, we pitched a tent further down the trail and enjoyed a sunrise soak the next morning.
Travelling in 3 words: Shift your perspective  
---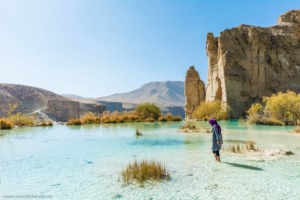 Sebastiaan from Lost With Purpose: 
Our favorite spot must be the Band-e-Amir national park in Afghanistan. Not only is it one of the most beautiful places we've ever seen, it's a perfect example of how similar people all over the world are.
Band-e-Amir is Afghanistan's first national park. It houses six incredibly blue lakes, supposedly created by Ali, the son-in-law of the Prophet Muhammad. It's absolutely gorgeous, and a place you must see to believe.
The park is also a great hangout for families. People go there to picnic, take a holy dip in the water, or enjoy a boat ride in the swan peddle boats. When you walk around Band-e-Amir, you almost forget that Afghanistan has been at war for the last couple of decades. It exudes peace and calm.
Travelling in 3 words: Absolute, complete freedom
---
Bren from Bren on the Road: 
One of my favourite spots in the world is the north of New Zealand. Life is a little slower up there, the roads are empty and the nature largely untouched. Not to mention the surf is amazing – you can head out into the water early in the morning and watch the sunrise while bobbing in the ocean on your board. If you're after a little piece of paradise where the people are smiling, you can pick fresh shellfish right off the beach and the sun is always shining, that's where I'd tell you to go.
Travelling in 3 words: Bringing people together.
---
Michelle from Intentional Travelers
We always love smaller towns with lots of character and there are few that compare to Guatapé, Colombia. Vibrant colors and traditional murals are everywhere you look. The surrounding lakes and hillsides are also gorgeous. Unless you love crowds of tourists, avoid going on weekends if you can!
Travelling: Positively transformative
---
Esther from Your Dutch Guide
If you say 'The Netherlands' you say canals and I must admit that the canals in my hometown Utrecht provide everything that I want from a city. Utrecht doesn't have as many canals as Amsterdam, but honestly: they are maybe even prettier. You can spend a couple of hours wandering along the canals, enjoying peace and quiet, passing museums, quirky shops and cafés. And whilst exploring the canals in Utrecht, you can basically see all the highlights in the city.
The most famous canal in Utrecht is Oudegracht, the longest and widest canal which runs through the city centre. Along the wharves many restaurants have set up outdoor seating and when the sun is out, these terraces are the best place for people and boat watching. You will spot the famous Dom tower from a distance.  Take a seat on the bridge in front of Grand Café Graaf Floris and have some coffee and a pastry while you can enjoy the entire city that seems to pass you by.
Just behind the Dom tower following another canal, Nieuwegracht, you will escape from busy city life and find yourself along a quiet and green canal with cosy courtyards hidden behind he gabled canal houses.
---
Priya from Glorious Sunrise
Lake Tahoe is my dream destination in California. If you visit it once, you will understand what I am talking about. Pick any season and still you are guaranteed to be awed with its natural beauty.
In winter, it turns into a snowy wonder and you can go skiing, sledding, snowshoeing and much more. In summer, it transforms into a gorgeous destination where you can go hiking, fishing, biking and much more. The Pacific Rim trail is offers breathtaking scenery for you to savor.
Traveling means freedom to me
---
Odo from The Histourist
My favourite spot is something that cannot be seen anymore: on 8 March 2017, in fact, the Azure Window collapsed into the sea. It was a 30-metre-tall arch heading into the sea. It was wonderful! Every time I could go to Gozo, in the Maltese archipelago, I headed to the far west of the island to enjoy one of the best sunsets in Europe.
I currently live out of Malta and when I received the news of the collapse of the Azure Window, I almost cried thinking of what the next generations lost. Unfortunately, time and sea erosion destroyed my favourite spot, but it will stay imprinted in my mind.
Travelling in 3 words: discovering, meeting, enjoying
---

Nazneen from Broad without borders
This picture was taken at Baia do Sancho, Fernando de Noronha, Pernambuco, Brazil. Baia means 'bay'. I made this inconvenient choice of destination my only one on my trip from Seattle to Brazil because a) It is the best beach in the world as per Tripadvisor.com. b) Exotic for an English speaker c) Very safe for Brazil as a female solo traveler.
It is a small remote island off the Northeastern coast of Brazil will multiple beaches. The locals I met there were either local business owners or diving instructors. Your day will roll like this:
Wake up to an elaborate breakfast of breads, cheeses and juices
Dive in the ocean. This place is a snorkeling paradise
Grab a light crepe and acai at Acai E Raizes
Chill at a beach/ hike
Find a BBQ on a beach the locals decide to assemble at
Sing, dance and grill till sunset
Meet at the old chapel for live music
Get crazy
Repeat
I had a lovely and magical there. I'd love to go back with a better command over Portuguese
Travelling in 3 words: (1) An exercise for the senses (2) A learning experience (3) Vitality booster
---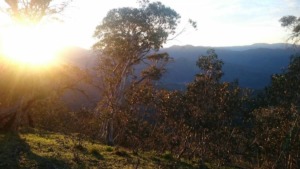 Jane from Wicked Walkaround
My Favourite spot – Mt Timbertop in the Victorian High Country, Australia.
Mt Timbertop is just a little spec as far as mountains go, 1275 metres above sea level, but with views that look out across the plains, over to Mt Buller and out across the expanse of the Victorian Alps. The narrow ridge line provides stunning views of sunrise and sunset, as well as shade beneath wonderful snow gum trees.
I first hiked up here and camped prior to having kids and have now taken my family up to the summit where we camped and slept in hammocks amongst growling possums, enjoying starry skies and a glorious sunrise…
Traveling in 3 words: Best Children's Education
---